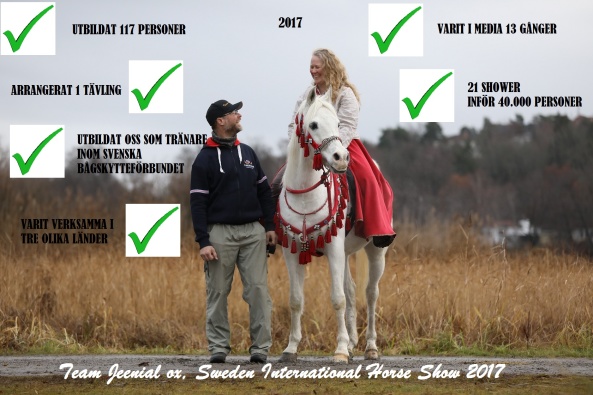 Two Knights who met in the Middle ages

It was in 2006 and 2007 as Mats and Ylwa Woxmark started with showjousting. They discovered not only that they had common interests, they also concluded that the environmental training of the horses in this area was absolutely fantastic.
Ylwa was a combination of every one of Astrid Lindgren's little rascals and a modern Knight - A passionate and stubborn rebel, who was born in a tussock in the forest. Those who knew her well, usually call her "Ronia the Robber's daughter"

Mats was a committed and humorous entertainer who was born in Leksand in the good old 60's in a family who had trotters. He has had long periods of "walk abouts" in Sweden's long country to finally return to his homeland Dalecarlia. They met in the middle ages and became best friends, then one day it just "clicked!"

Sometimes something happens that changes our lives entirely
"Ylwa moved to Dalecarlia 2010 and in the middle of the first cold winter, Jeenial became seriously ill, we were close to losing him. The time that followed, Ylwa had to build up a horse that was only skin and bones from the ground and this period changed our lives. It was like learning to walk and talk again, we spent a lot of time with Jeenial without riding and discovered that he had tried to communicate with us all these years, but we had not understood to listen. Ylwa learned bitlessriding when Jeenial was strong enough to be ridden again and soon they got the opportunity to attend Ekenäs Castle's 20th anniversary with the showjoustingteams Jemtlandicum, Torneamentum and the Stunt Team Ukrainian Cossacks.

There we were given the opportunity that, before a crowd of 5,000 people, show that it was possible to ride an Arabian horse with only a cordeo. Afterwards people started to contact us because they wanted to learn our trainingmethod, H3 (Horse-Horse, Horse-Human, Human-Horse), who initially relies on our experiences with Jeenial, and we started the Amazonschool. Over the years, we have also had the opportunity to show how fast the method allows us to establish a good teamwork with a horse we have never met, for example on horseback archery competitions abroad, in order to make good results together. Since 2012, the H3-method has trained hundreds of horses and people all over the world."